In the heart of Neukölln, a very special building project was completed and handed over to the future users at the beginning of June. The so-called "One World Centre" of Berlin Global Village gGmbH will be housed in a former administrative building of the Kindl brewery and a new building next to it.
Berlin Global Village will be a unique place in Berlin for diversity, encounters, cooperation, open dialogue and commitment. The now completed premises will offer excellent working conditions for civil society organisations and initiatives.
Berlin Global Village: An inclusive place for dialogue and encounter
The centre sees itself as a social space and a place for cooperation for the immediate users as well as for visitors. In this way, a contribution is to be made to an inclusive and integrative society.
The physical centre of this inclusion work is to be located on the former site of the Kindl brewery in the district of Neukölln. Construction work has been completed since March 2021. On 6 June, the building was ceremonially inaugurated in the presence of Senator for Economic Affairs Ramona Pop (Die Grünen).
Opening of the new building on 6 June 2021
Pop was not invited without reason, as the project was made possible by the state of Berlin itself, with start-up funding of 3 million euros to Berlin Global Village gGmbH.
Ramona Pop said the following in her opening speech: "Berlin as a sustainable and cosmopolitan metropolis needs strong structures and places of civil society for exchange and debate. With the One World Centre, Berlin now finally has a place for dialogue on global issues. This is important for a lively, solidary and committed capital. I am excited about the numerous initiatives and projects that will find their way into the city from the Berlin Global Village."
Global classroom, meeting café, offices and event space
The One World Centre in Rollbergkiez, not far from Karl-Marx-Strasse, includes a Global Classroom, which Berlin schoolchildren and teachers can use to learn about and exchange ideas on the topics of globalisation, human rights and sustainability. There are also event rooms, a gallery and a meeting room with toys from all over the world.
After the successful completion of the construction of the new building, the ground floor of the old building is now being renovated. From spring 2022, this will function as an event floor and also contain a meeting café.
The site of the former Berliner Kindl brewery with the brewhouse is located at Werbellinstraße 50 and was built between 1926 and 1930. Since the site was closed down in 2005, the brewhouse has been used for various cultural events.
© Pictures: Berlin Global Village gGmbH
Old and new: The "Global Village Berlin" is housed in a historic part of the former Kindl brewery and a new building completed in March.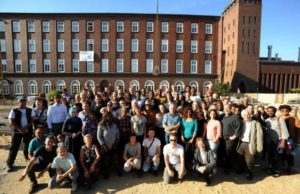 A Place for Dialogue and Encounter in the Rollbergkiez: The "One-World-Centre