In recent weeks, the media have mainly reported on the laying of the foundation stone for the "House of One" sacral project. At least as far as building projects in Berlin's former historic centre are concerned.
Much further along than the "House of One", however, is another project that is being built on the historic Petriplatz: the new archaeological centre.
New construction of the archaeological centre at Petriplatz underway since 2019
The architectural competition for the building had already been decided in 2012, but it was not until 2019 that construction work had begun not far from Spittelmarkt.
The costs for the project amount to around 20 million euros. The project is financed mainly by EU funds and to a lesser extent by money from the Berlin state budget.
Construction costs amounting to 20 million euros
According to plans of the Berlin Senate, the Archaeological Centre at Petriplatz is to become the starting point for an Archaeological Promenade through the old, historic centre. Stations that visitors can walk through and experience include St. Mary's Church and the new palace building.
The call for the archaeological visitor centre, now under construction, came after the great interest in the excavations at Petriplatz, the Red Town Hall and Schlossplatz, which were already opened to the public in the early 2010s.
Archaeological work display site
The seven-storey building is to become a showcase for archaeological work. The new building is being constructed above the current excavation site so that visitors can experience the foundations of the Cölln Latin School from 1350 on the lowest floor.
On the upper floors, visitors can look over the shoulders of archaeologists, for example when cleaning new finds or in the magazine with the finds.
The initiators' aim is to introduce visitors to the history and development of the medieval cities of Cölln and Berlin. Completion is scheduled for next year.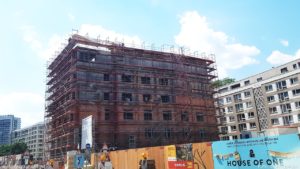 This is what the building will look like when it is completed.