In the fifth episode of our URBAN DEVELOPMENT PODCAST, we spoke with Thomas Willemeit and Oliver Schruoffeneger about the future of the ICC in Berlin's Charlottenburg district.
The architectural firm Graft is known for its visionary concepts for the future, which not only relate to the architecture of buildings or urban spaces, but also increasingly focus on the topic of mobility in the future.
The office has also created a utilisation concept for the ICC, which has been unused for years. The architects' group's idea is to turn the ICC into a Mobility Hub of the future, even in name: The project is entitled "M.ICC": Mobility Innovation Convention Center.
FOCUS OF THE DISCUSSION: A SUSTAINABLE FUTURE CONCEPT FOR THE ICC
In our conversation, Thomas Willemeit explained the motivation and background of the concept and why the ICC could be the ideal location for a centre for e-mobility.
Oliver Schruoffeneger explained the strategy of the district of Charlottenburg-Wilmersdorf on the topic of traffic turnaround and also outlined the role the ICC could play in this context in terms of urban development and infrastructure.
© Visualisation ICC: GRAFT Gesellschaft von Architekten mbH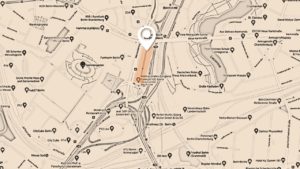 URBAN DEVELOPMENT PODCAST
EPISODE 5
TOpic: The Future of the ICC as a Mobility Hub
Guest: Thomas Willemeit & Oliver Schruoffeneger
About the Person: Thomas Willemeit is an architect and one of the three founders of Graft. Oliver Schruoffeneger is District Councillor for Urban Development in the Charlottenburg-Wilmersdorf district.