At Potsdamer Platz, the signs continue to point to change: After the reconstruction of the Potsdamer Platz Arkaden, which will run until 2022, and the completion of the neighbouring Oktogon at Leipziger Platz, further far-reaching changes are in the offing.
23 years after its opening, the former Daimler site, which is part of Potsdamer Platz, is to be comprehensively redesigned. The basis for the planned renovation is the results of a survey of visitors to the neighbourhood.
CONVERSION ACCORDING TO THE WISHES OF THE VISITORS TO THE NEIGHBOURHOOD
And the results were quite clear: the respondents wanted much less car traffic and also more green in the neighbourhood. The current owner of the area, the Canadian company Brookfield Properties, presented the redevelopment plans for Potsdamer Platz last Thursday.
And they look like this: Alte Potsdamer Straße from Potsdamer Platz to Marlene-Dietrich-Platz is to be transformed into a pedestrian zone with outdoor restaurants. Instead of the usual street asphalt, natural stone paving is to be laid over a wide area.
ALTE POTSDAMER STRASSE TO BECOME A PEDESTRIAN ZONE
A large water feature and a natural rainwater garden are also planned. The Potsdamer-Platz-Arkaden shopping arcade is to open up more to the neighbouring streets in the future. According to the project planners, the conversion of the arcades and the outdoor areas will go hand in hand.
The new arcades will therefore not only house flagship stores and high-quality shopping facilities, but also market halls and upscale restaurants.
The renovations in the arcades are to be completed next year, and the outdoor facilities are to be completely redesigned by 2025. Brookfield Properties is spending a lot on the construction project: the new concept for the quarter will cost a total of 200 million euros.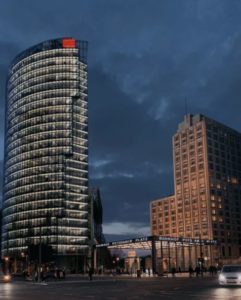 Reinvention in the 90s: Potsdamer Platz on the former border strip between East and West Berlin

Car-free by 2025: Alte Potsdamer Strasse to Marlene-Dietrich-Platz