Opened in 1979, the Kaufhof building on the northern side of Ostbahnhof has been converted into an office building over the past four years. The project, for which the Signa Group is responsible, began in mid-2017 and was completed this spring, half a year later than originally planned.
The former department store is unrecognizable in its current form. The cost of the spectacular conversion amounts to 100 million euros. The anchor tenant in the building will be Zalando, which already uses several office buildings in the Mercedes-Benz Quarter.
THE SIGNA GROUP INVESTED 100 MILLION EUROS IN THE CONVERSION PROJECT
The company will also occupy a large part of the space in the nearby "Stream" high-rise on Warschauer Strasse, currently still under construction. The building, which has now been completed at Ostbahnhof, will also have retail space, at least on the first floor, including a pharmacy, a supermarket and food outlets.
The new building was designed by Jasper Architects. The Berlin-based firm won the architectural competition in 2016. The aim of the competition was to convert the massive and aging square building into usable office space.
ZALANDO BECOMES ANCHOR TENANT IN THE NEW BUILDING
To break up the monolithic geometry and let in more light, the architects had triangular prisms cut out on each side of the building. Two additional floors were also added to the building.
The Signa project is not the only thing that will change the image of Ostbahnhof in the future. Another construction project is the renovation and modernization of the historic Julius Pintsch building on Andreasstraße, just a few meters away from the new Signa building.
RENOVATION OF THE JULIUS PINTSCH BUILDING MAKING GOOD PROGRESS
The architecturally imposing, five-story building is typical of Berlin's 19th century industrial architecture and is a listed building.
This is where the Berlin company Julius Pintsch had its headquarters and also its central production facility. The family business supplied gas lighting for railroads and locomotives, among other things, and was thus able to rise from a small family business to an important German industrial enterprise.
CONVERSION INTO AN OFFICE AND COMMERCIAL BUILDING
After decades of vacancy, the building is currently being converted and extensively modernized. The historic building is being converted into an office and commercial building.
In the meantime, the renovation of the facade on Andreasstraße has been completed. Inside the building, work is still in full swing. The refurbishment work is expected to be completed by 2022. Nothing is known yet about the future tenants in the building.
Dominated by glass: The modern façade of the converted former Kaufhof building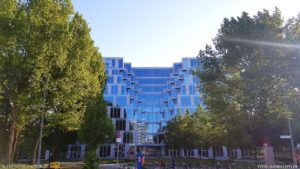 Two additional floors were added on top of the original building. In addition, triangular prisms were "cut out" on all sides to allow more light into the building.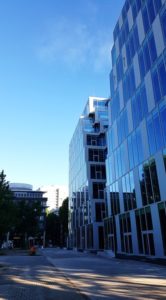 Architectural contrast to the new Signa building: the restored, historic façade of the Julius Pintsch House