Not far from the Wilhelminenhofstraße in Köpenick, the Reinbeckhallen are currently hosting a sensational art exhibition. The Reinbeckhallen Collection of Contemporary Art Foundation, as the foundation is called in its entirety, has been using the historic halls since 2017 to present contemporary art and to promote education, art and culture.
EXHIBITION OPENED ON SEPTEMBER 18, 2020
The Reinbeckhallen are part of a listed building ensemble, built more than a hundred years ago in the industrial Oberschöneweide. For decades, the factory premises served as a production site for transformers and high-voltage systems of AEG, later the VEB Transformatorenwerk Oberschöneweide (TRO).
Today, art dominates in the restored buildings. And just as historic as the buildings themselves is the exhibition that opened on September 18 in the former factory buildings: "Berlin, 1945-2000: A Photographic Subject" shows over 200 works by artists who photographed Berlin between the postwar years and the end of the 20th century. Beginning with the immediate post-war period, the exhibition's photographs depict the enormous damage that Berlin suffered during the Second World War.
ART AND CULTURE IN HISTORICAL FACTORY HALLS
The collective efforts of the women in ruins, everyday life in the second half of the 1940s and in the 1950s, the building boom in East and West, the subcultures of the late 1970s and 1980s, and the ways of life that either disappeared or developed anew after the fall of the Wall are dealt with in an extraordinarily intense way. A total of 23 photographers made their photographs available for the exhibition.
It was planned that the show would remain open to visitors until the end of January 2021. Due to Corona, however, the exhibition had to close, which is extremely regrettable due to the quality of the exhibits on display there.
A PHOTOGRAPHIC JOURNEY THROUGH TIME FROM POST-WAR BERLIN TO THE MILLENNIUM
One consolation is now that a large part of the works can also be seen in the catalog published for the exhibition. This catalog was published by Hartmann Books in Stuttgart and can be purchased there for 38.00 EUR.
With the kind permission of Hartmann Books Verlag we are able to present some of the pictures on ENTWICKLUNGSSTADT. If you would like to purchase the entire work, you can do so here.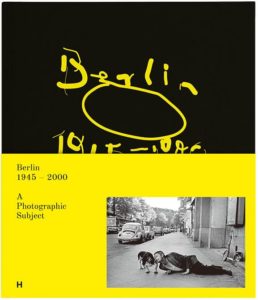 © Stiftung Reinbeckhallen Sammlung für Gegenwartskunst / Sybille Bergemann
© Stiftung Reinbeckhallen Sammlung für Gegenwartskunst / Herbert Hensky
© Stiftung Reinbeckhallen Sammlung für Gegenwartskunst / Gundula Schulze-Eldowy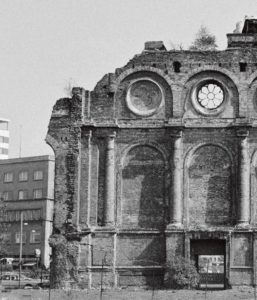 © Stiftung Reinbeckhallen Sammlung für Gegenwartskunst / Roger Melis
© Stiftung Reinbeckhallen Sammlung für Gegenwartskunst / Andreas Rost
© Stiftung Reinbeckhallen Sammlung für Gegenwartskunst / Miron Zownir
© Stiftung Reinbeckhallen Sammlung für Gegenwartskunst / Miron Zownir
© Stiftung Reinbeckhallen Sammlung für Gegenwartskunst / Michael Wesely